Dans l'e-sport, les hommes monopolisent la manette
Dans l'e-sport, les hommes monopolisent la manette
Malgré quelques initiatives, les hommes restent sur-représentés parmi les joueurs professionnels. Comme lors des mondiaux du jeu vidéo « League of Legends », qui se tiennent jusqu'au 31 octobre à Shanghaï.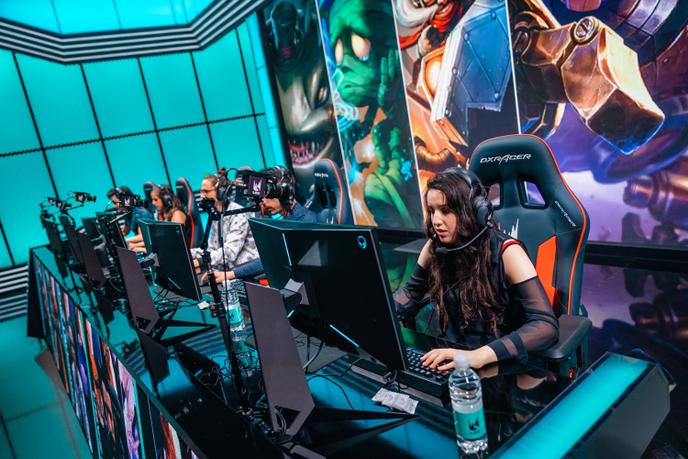 Savamment répartis dans les gradins, ils seront 6 312 à assister à la finale des mondiaux de League of Legends, samedi 31 octobre à Shanghaï. La compétition du célèbre jeu vidéo attire tant les foules qu'ils ont été plus de 3 millions à participer au tirage au sort attribuant les tickets. L'an passé, Paris, qui avait accueilli le tournoi à l'AccorHotels Arena, avait été critiquée pour avoir offert une structure trop petite pour un tel événement planétaire.
Sur scène, ce 10 novembre 2019, cinq Chinois remportaient l'ultime rencontre face à cinq Européens devant 15 000 spectateurs. Aucune fille parmi les dix finalistes. Une immense majorité d'hommes dans les tribunes. Mais parmi les 45 millions de personnes ayant regardé la compétition en ligne, tout comme parmi les joueurs et joueuses amateurs, le déséquilibre apparaît bien moins flagrant. Longtemps réservés aux seuls garçons, les jeux vidéo et l'e-sport (pour sport électronique, la pratique en ligne d'un jeu vidéo, seul ou en équipe) se sont peu à peu ouverts aux femmes. On estime qu'elles représentent aujourd'hui un tiers des pratiquants amateurs.
Au sein des professionnels de cette activité florissante – l'industrie du jeu vidéo a cumulé 120 milliards de dollars de chiffre d'affaires en 2019, dépassant les secteurs du cinéma ou celui de la musique –, la marge de progression est donc immense. Selon l'association Women in Games (WIG), les femmes ne représentent que 5 % des personnes travaillant dans le domaine de l'e-sport ; à peine plus pour celles participant à des compétitions de haut niveau.
« C'est normal, t'es qu'une fille »
Créée en 2017, WIG milite pour plus de mixité dans le secteur. « On a longtemps dénigré les petites filles ou les adolescentes qui jouaient en ligne, explique Servane Fischer, membre de WIG, ancienne joueuse pro, aujourd'hui au service juridique e-sport chez Ubisoft. Les filles ont fini par se résigner et intégrer que le haut niveau n'était pas fait pour elles. Il a fallu un courage incroyable aux rares joueuses qui ont réussi à s'imposer. »
(Visited 1 times, 1 visits today)
Article recent